Mexico City and Monterrey, Mexico
October – November 2008
Project produced with the great help of Nrmal
It was first presented during the Mutek Festival in Mexico City.
The Autotono is a mobile installation built in order to explore how people can interact with an artwork in a public space. My idea was to create a kind of puzzle with 3 designs mixed-up and observe how the people can change them trying to find the original designs (or not!). What I was interested in was not to see people completing the puzzle but to register all the intermediate compositions that were created without my control during the process. My idea with this experiment was essentially to observe and learn.
I was interested in observing the results of the Autotono in different situations, so we build it with wheels to be able to move it easily. We installed it, in busy streets, touristic squares, in parties, in a design fair, in a park, in a school…
The name "Autotono" states for automobile ("un auto" is "a car" in Spanish) and automatic (automaticly created compositions, without the intervention of the artist).
Thanks a lot to Ofimodul for letting us use their spare wood, their installation and for the great help of their workers. Pictures by Rafa, Lalo, Nrmal and Eltono.
Direct links to the picture galleries:
1 – Building pictures
2 – Mexico City pictures
3 – Monterrey pictures
4 – States pictures
5 – Simulation video
Building the Autotono: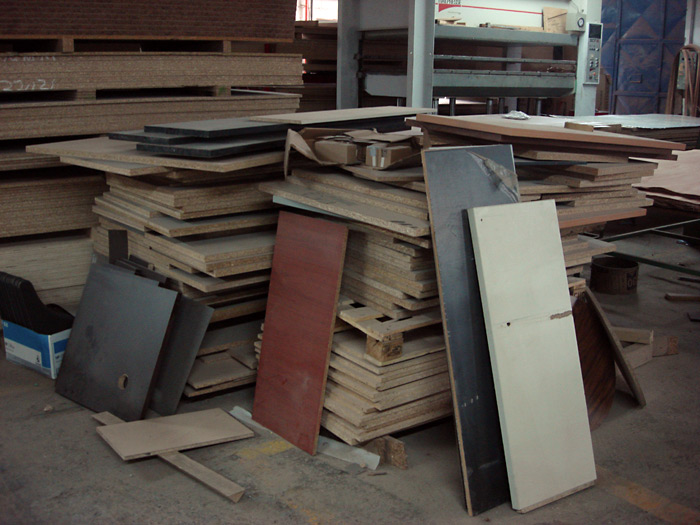 The first day in Monterrey, Lucas told me "there is spare wood in a furniture factory that we can use".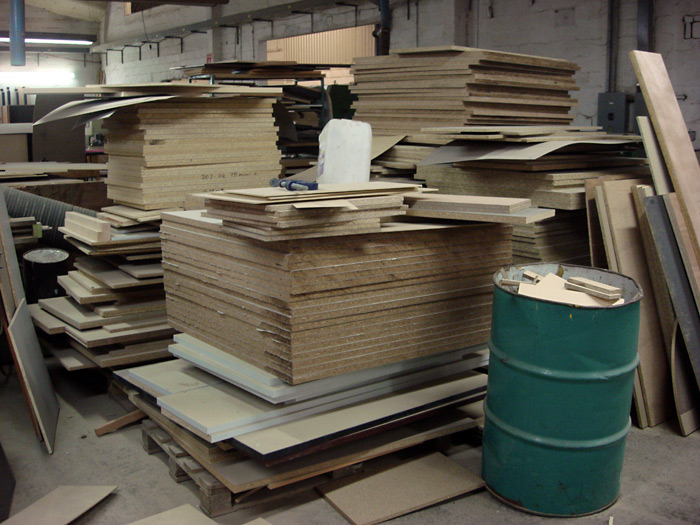 y la verdad es que habia muuuucha madera!!!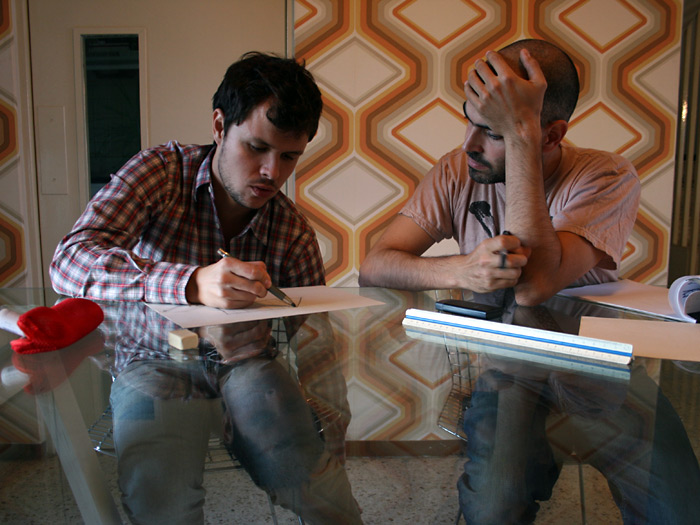 Entonces, empezamos a pensar como usarla.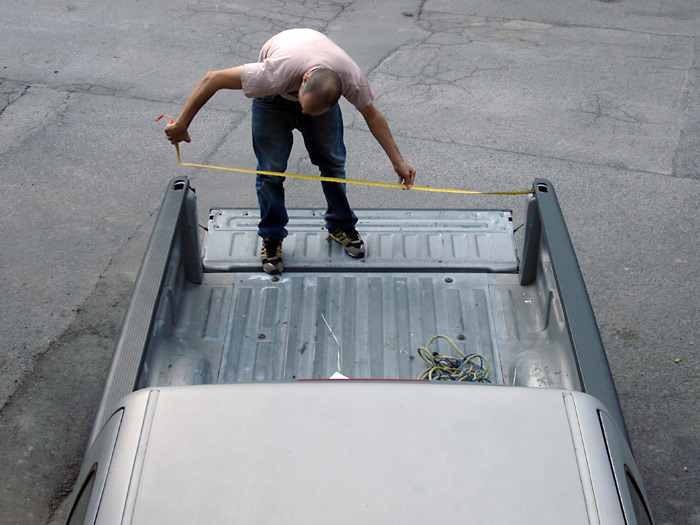 Pense en una instacion movil. Tenia que caber el la pick-up para poder llevarla y experimentar con ella en distintos sitios.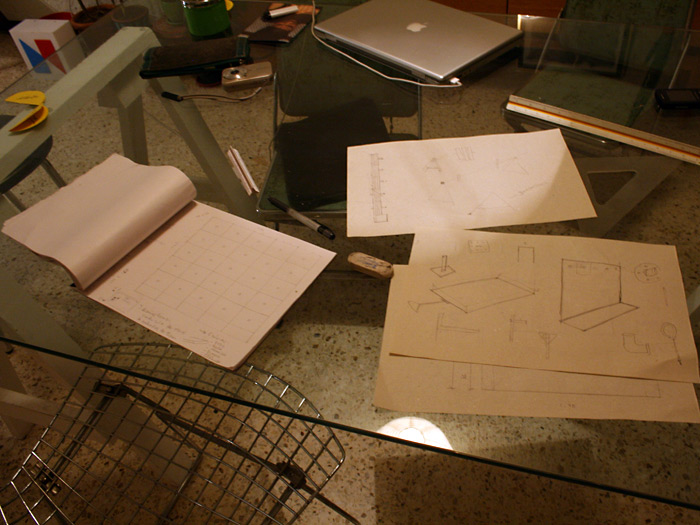 La idea del "Autotono" habia nacido!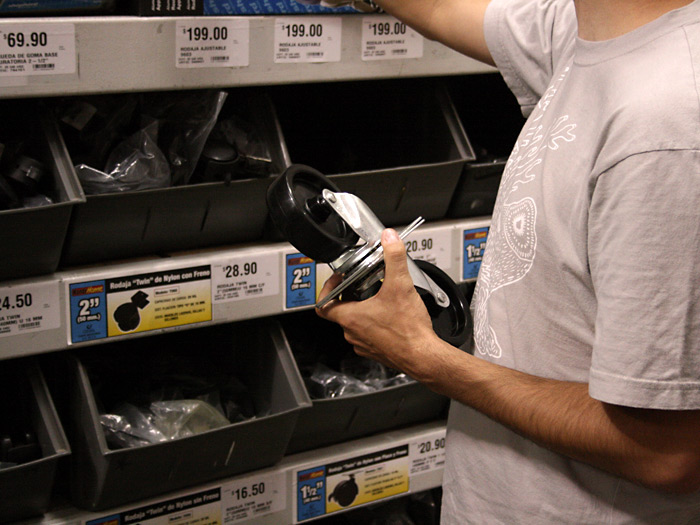 Pronto por la mañana al dia siguiente, fuimos al almacen de bricolaje...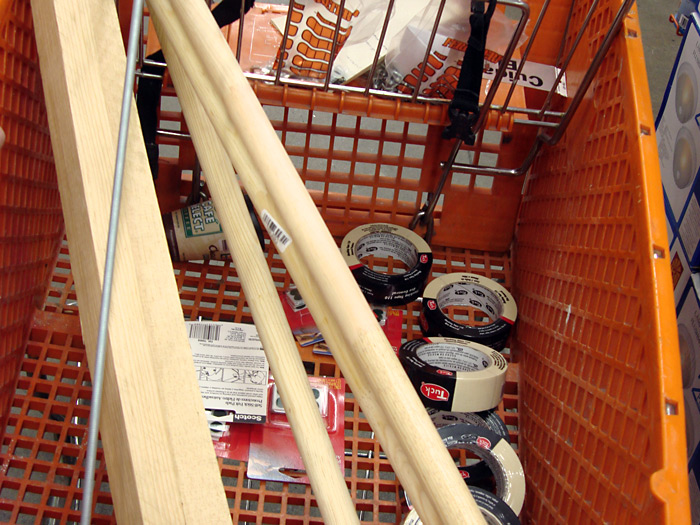 ...Compramos todo lo que necesitabamos...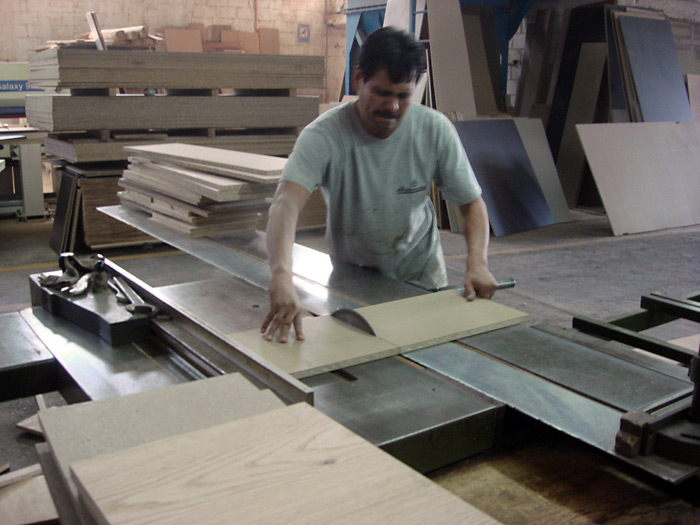 ...y por la tarde volvimos a la fabrica, seleccionamos la madera y empezamos a cortar las piezas.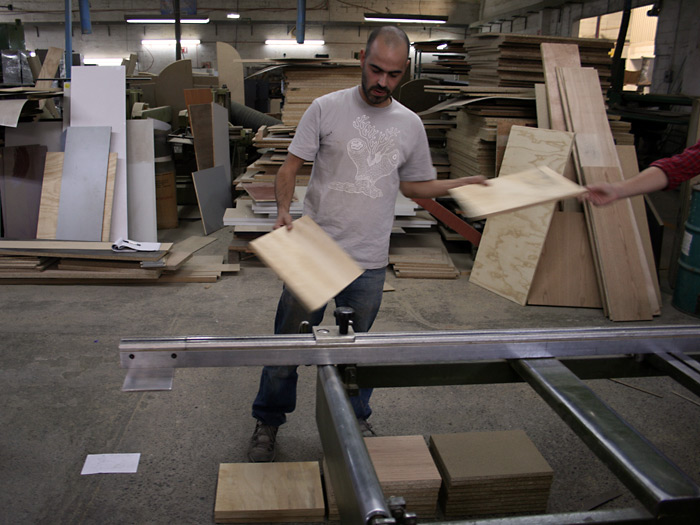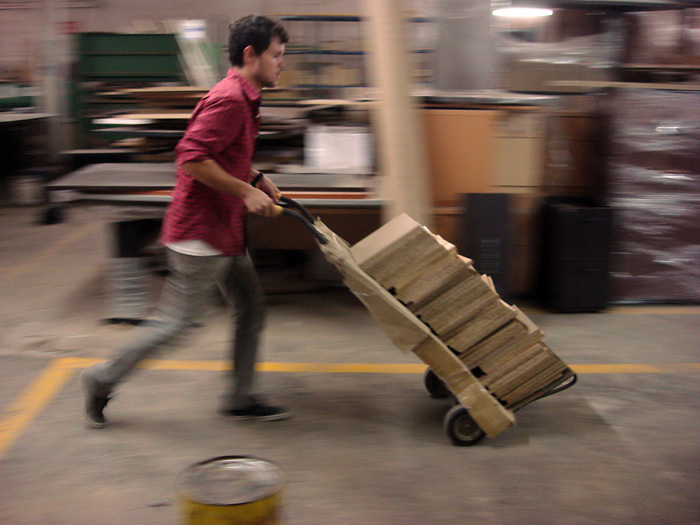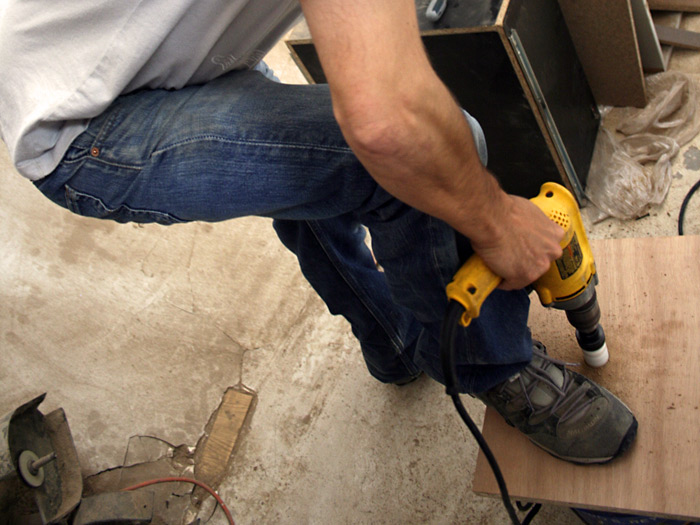 Taladré 76 agujeros.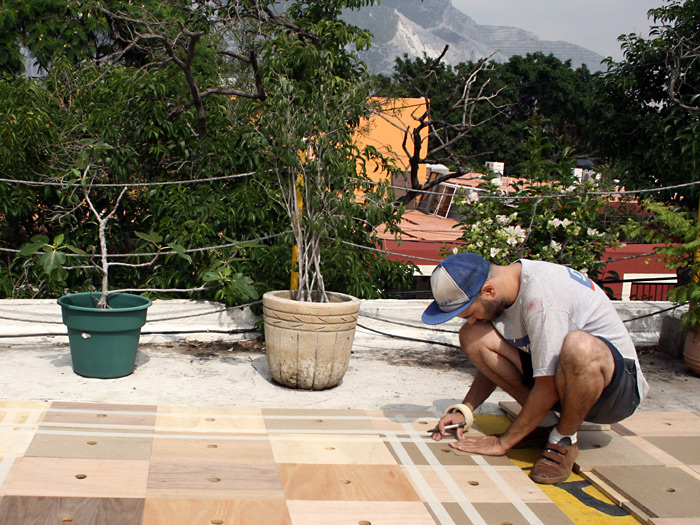 Al dia siguiente, empeze a pintar las piezas en la terraza de Maf.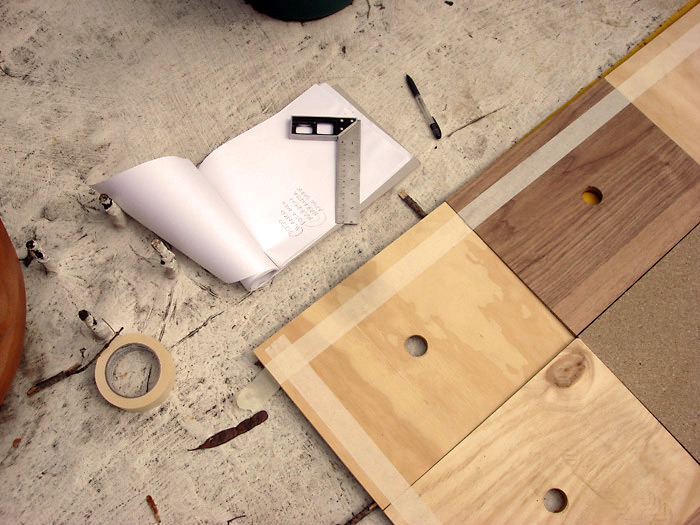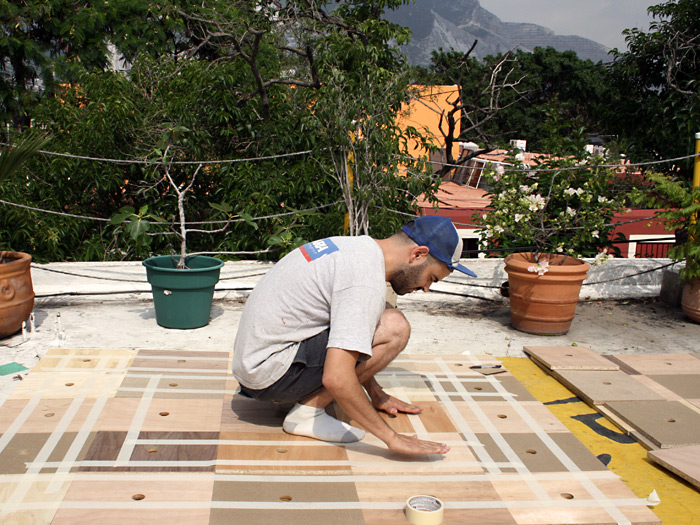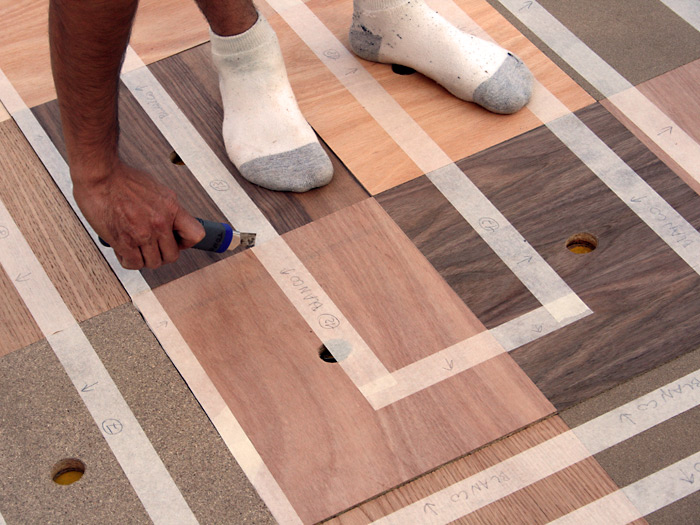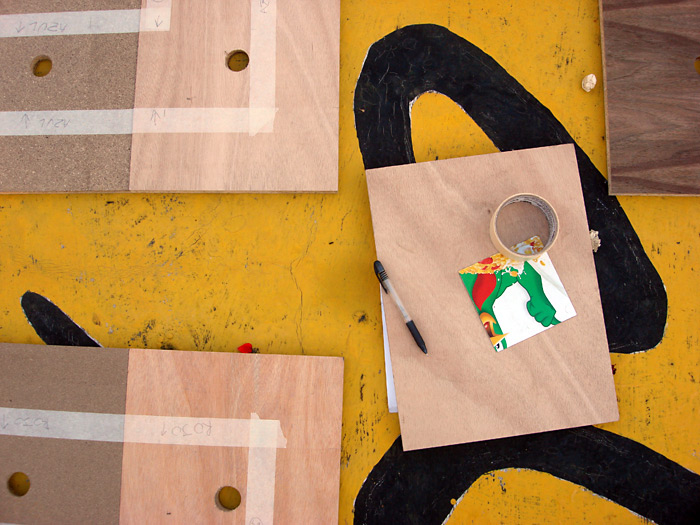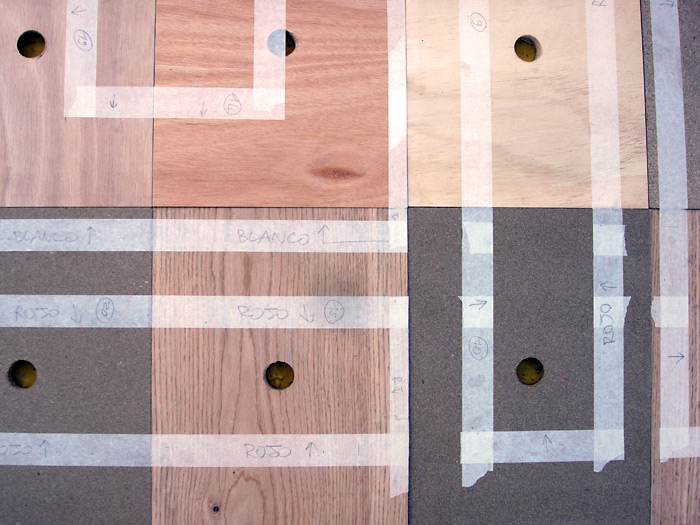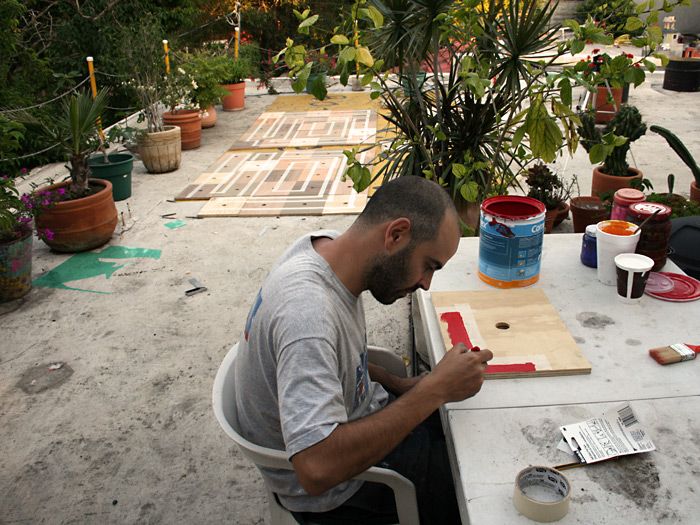 Pinte todo el dia y por la noche las piezas estaban listas.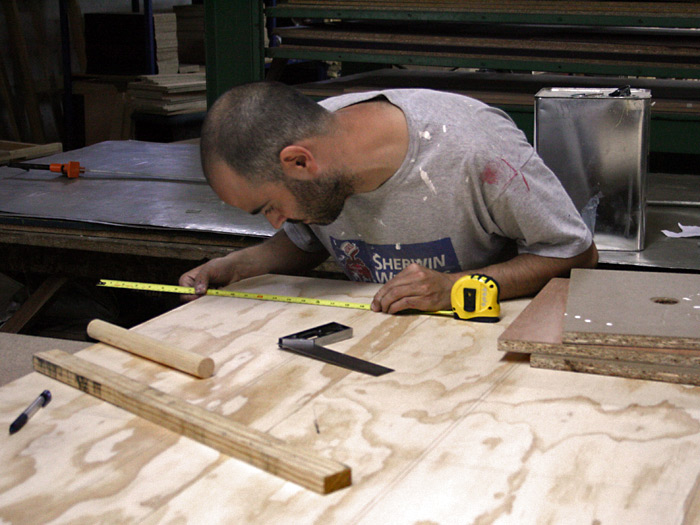 Al dia siguiente volvimos otra vez a la fabrica y empezamos a trabajar con la estructura del Autotono.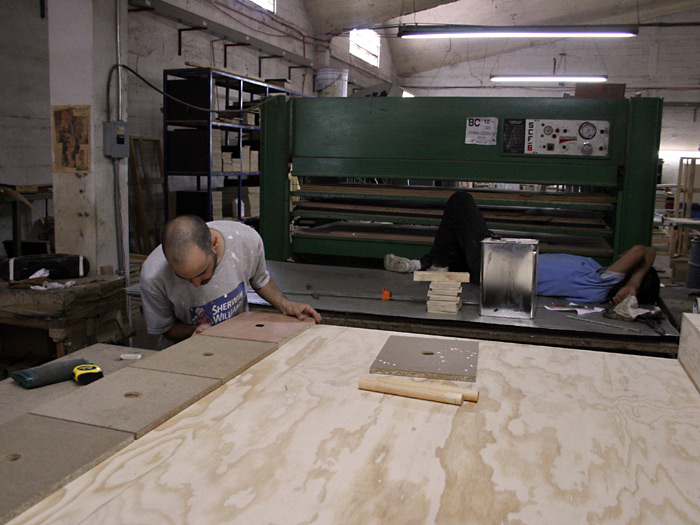 La hora de comer, intente ser discreto, los trabajadores echaban la siesta!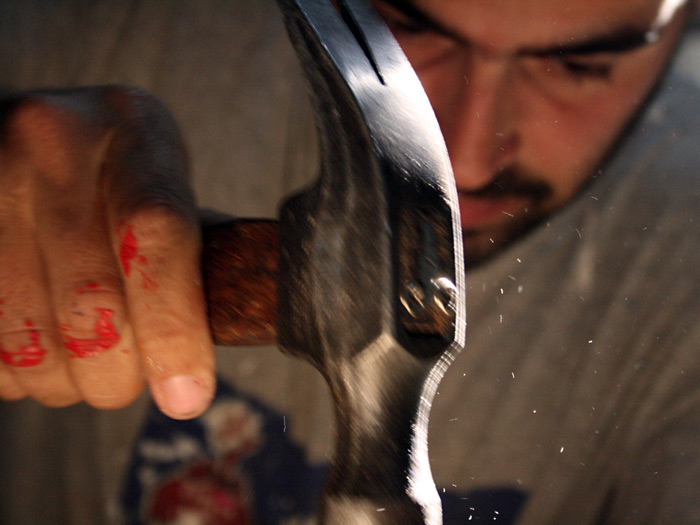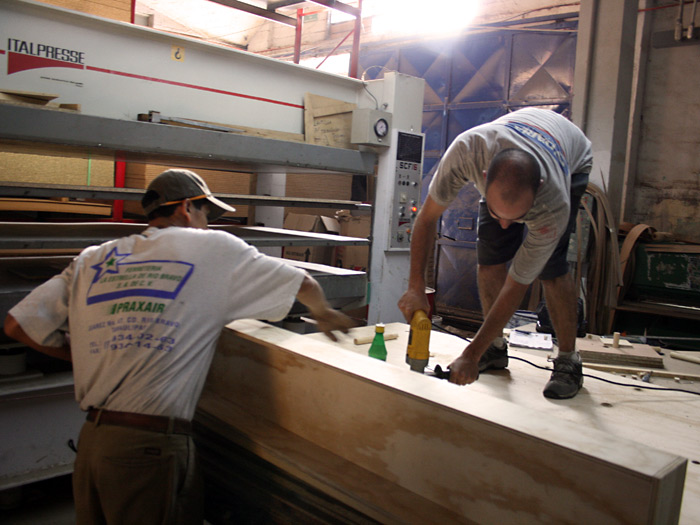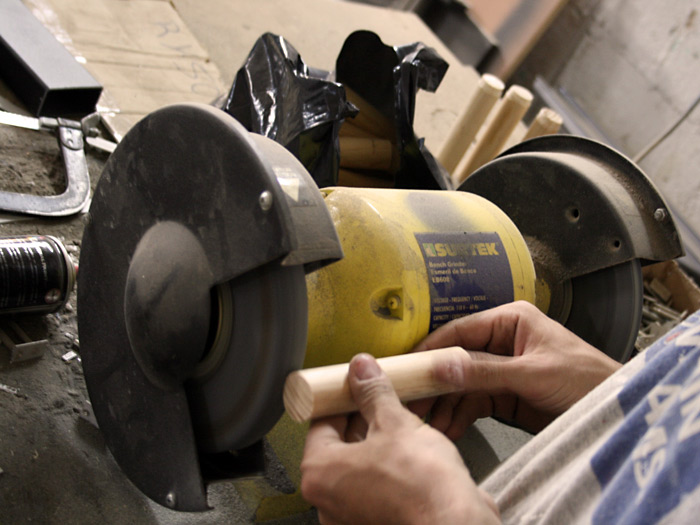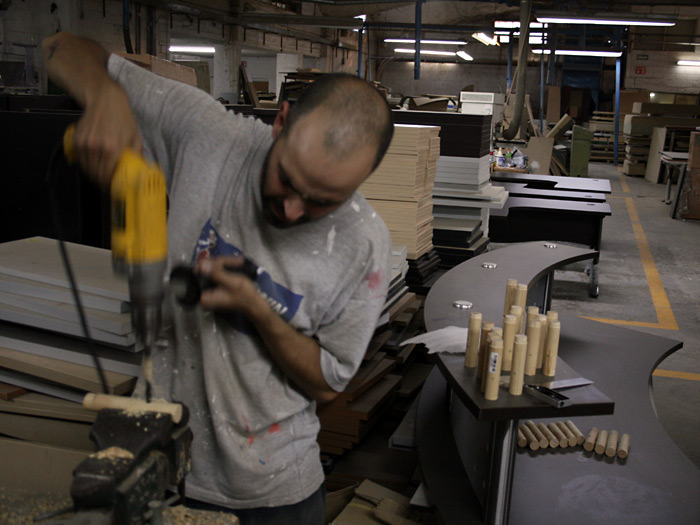 Taladrando el sistema de bloqueo.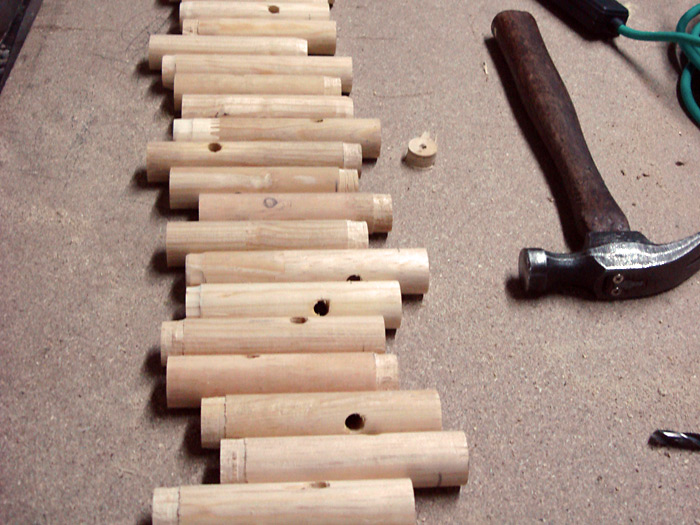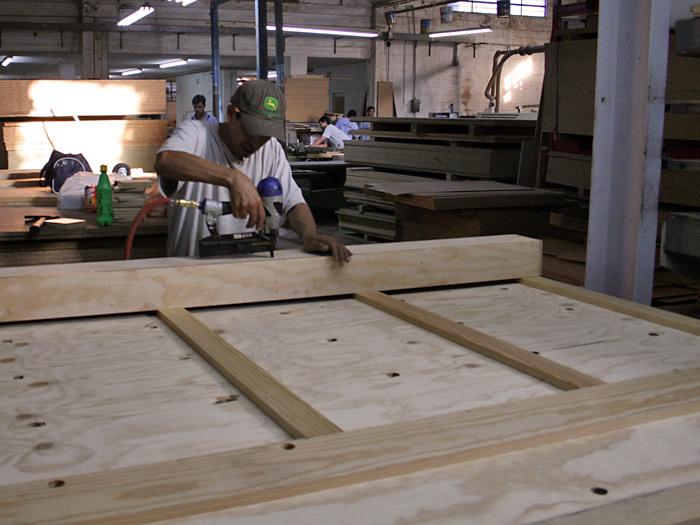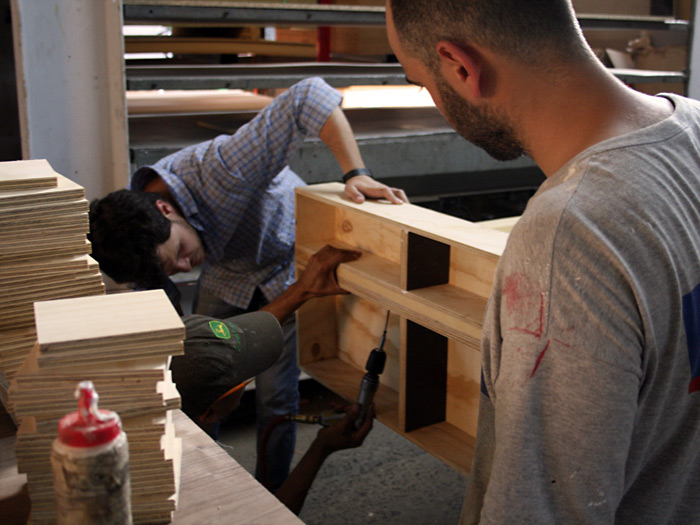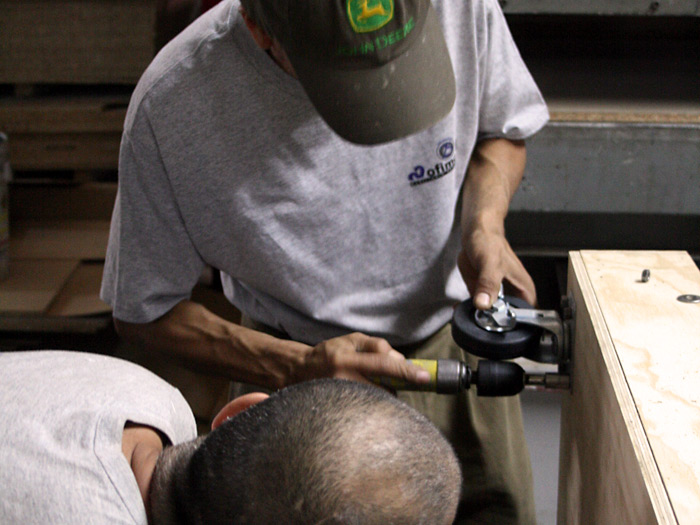 Ensamblando usando un increíble taladro de aire a presión!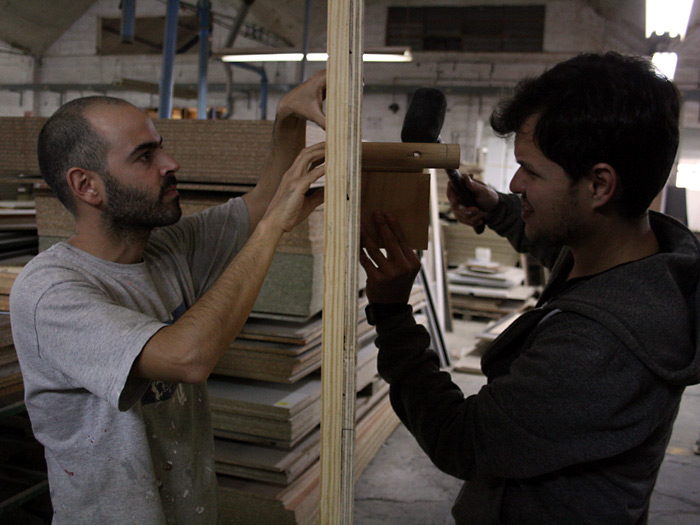 Trabajo de equipo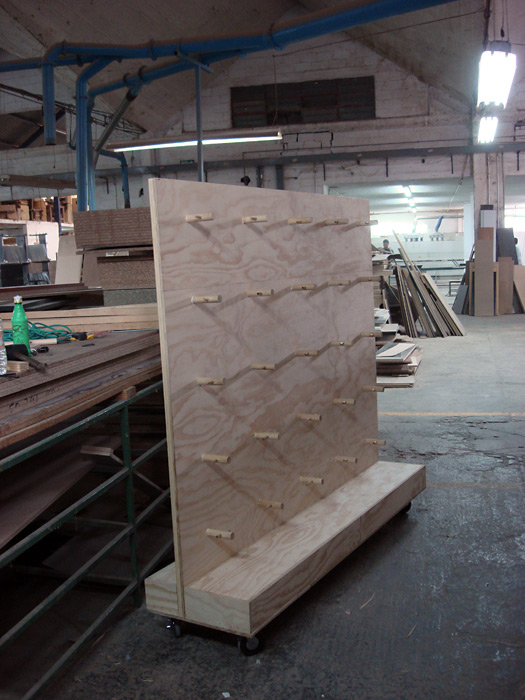 ¡Terminado!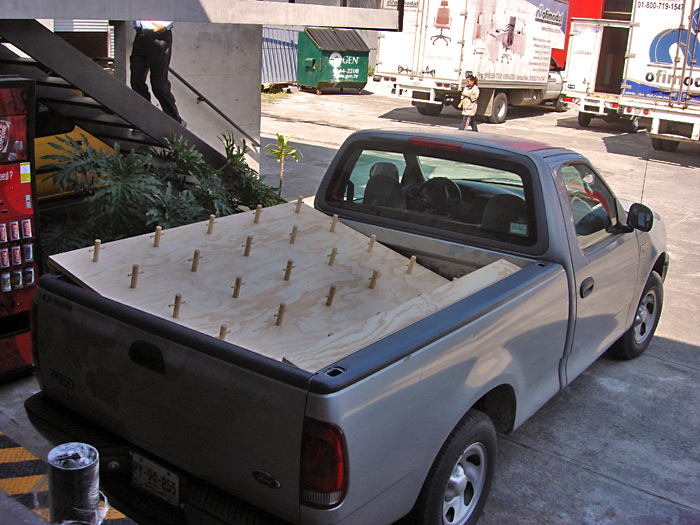 ¡Y cabe en la pick-up de Lucas!
Empaqué las piezas pintadas...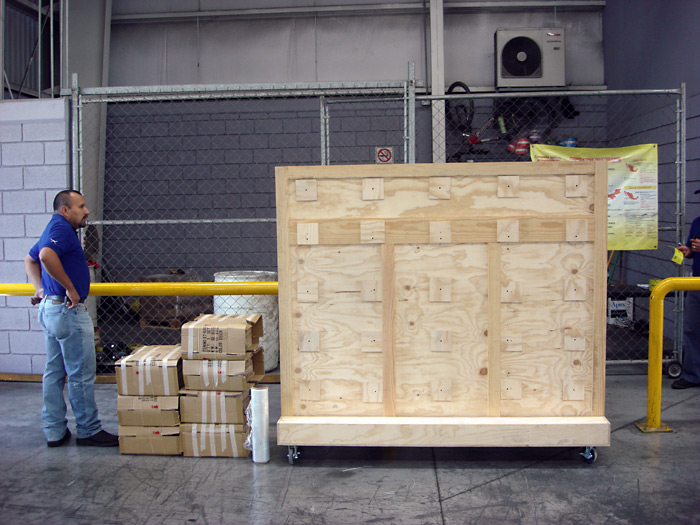 ...y mandamos el Autotono a México DF.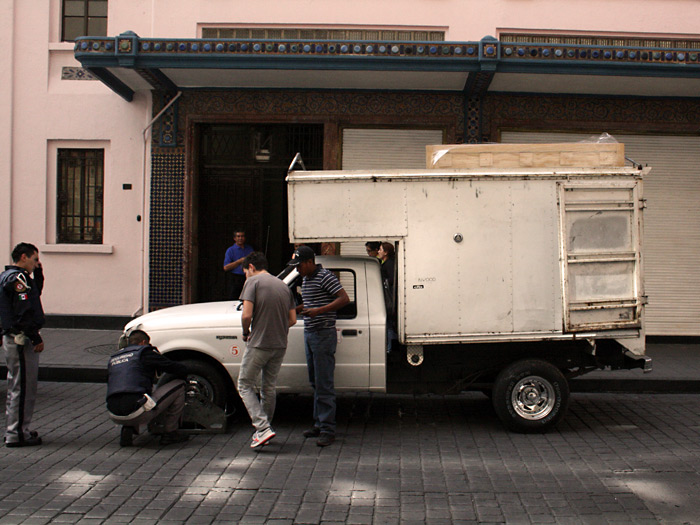 Volamos hasta México y al día siguiente el Autotono llegó, aparcó delante del hotel y fue multado en 10 segundos!!!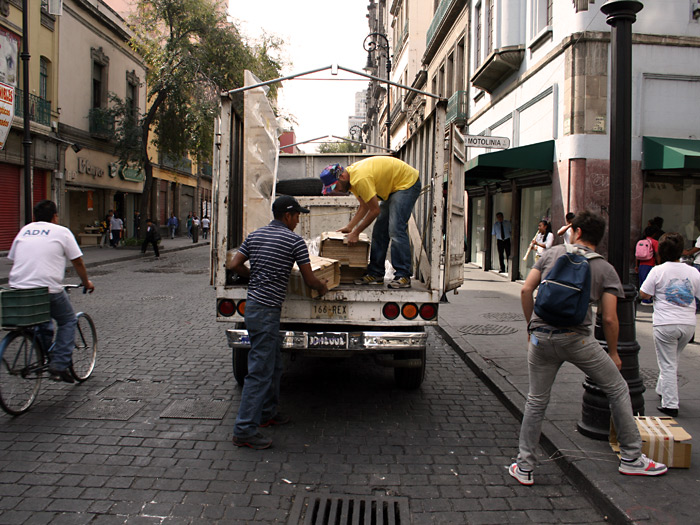 Nos "apañamos" con los policías y descargamos la instalación.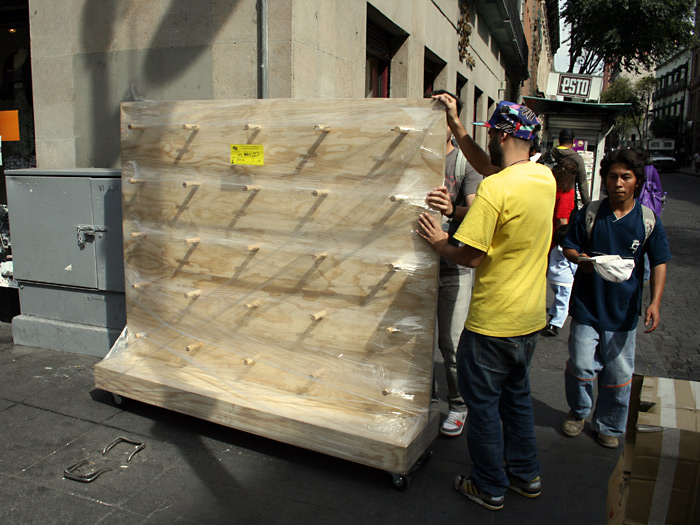 Para poder moverlo con facilidad, tuvimos que, por primera vez, poner todas las piezas en su sitio. Lo hicimos aleatoriamente, ¡el Autotono estaba vivo!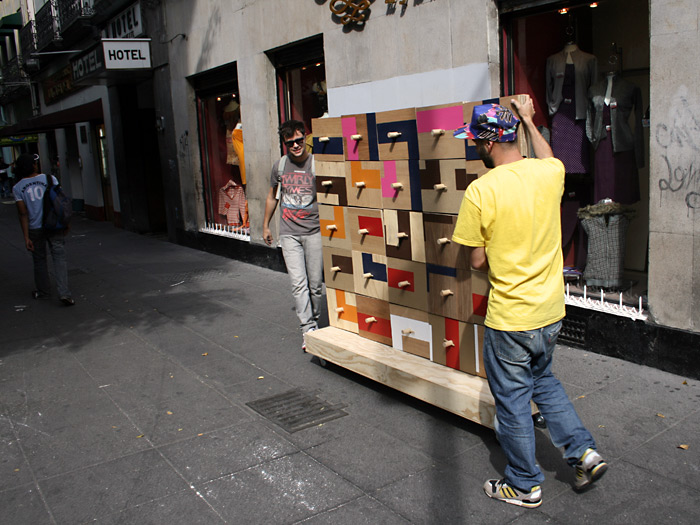 ¡Y móvil!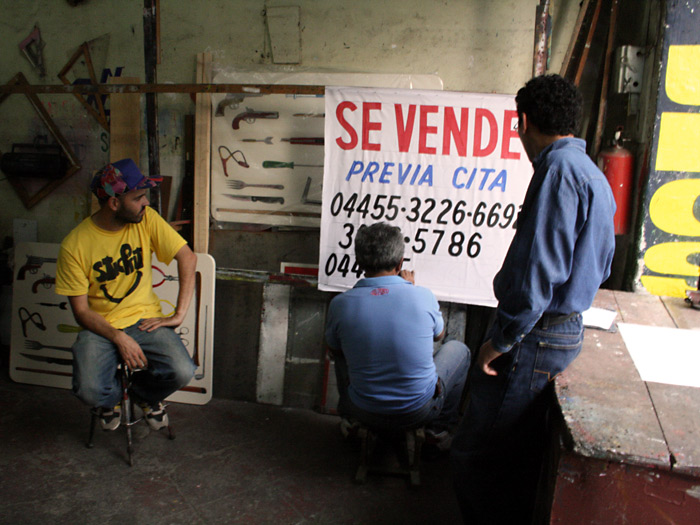 El siguiente paso fue encontrar un rotulista.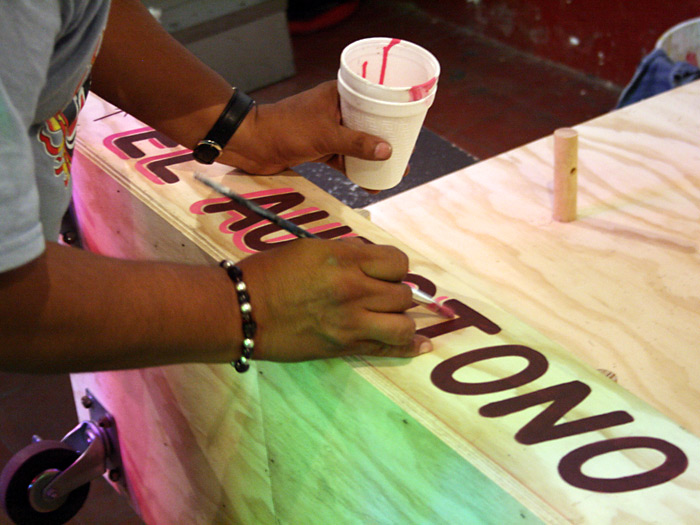 Pintó el nombre en puro estilo mexicano y el Autotono, por fin, estaba listo.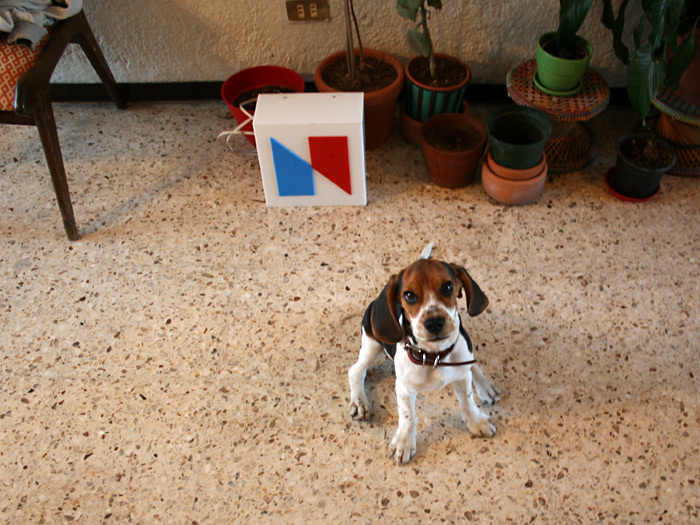 Ramone Random - El perro Nrmal
The Autotono in Mexico City, during the Mutek festival: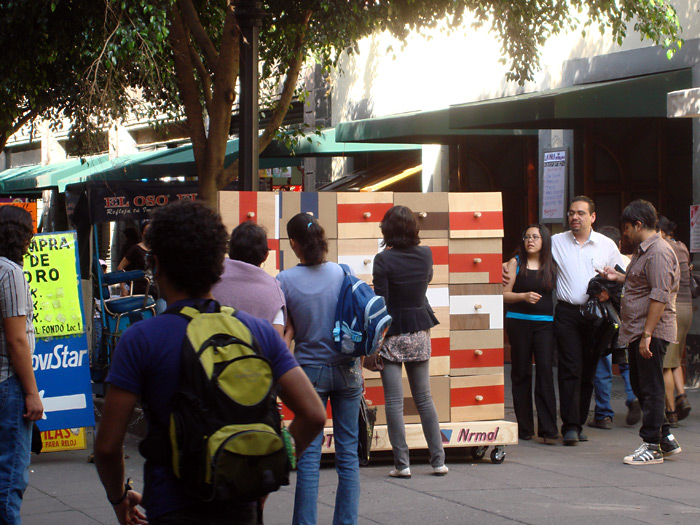 On Saturday we set the Autotono in Motolinia Street, a busy pedestrian street in the historic center of Mexico City.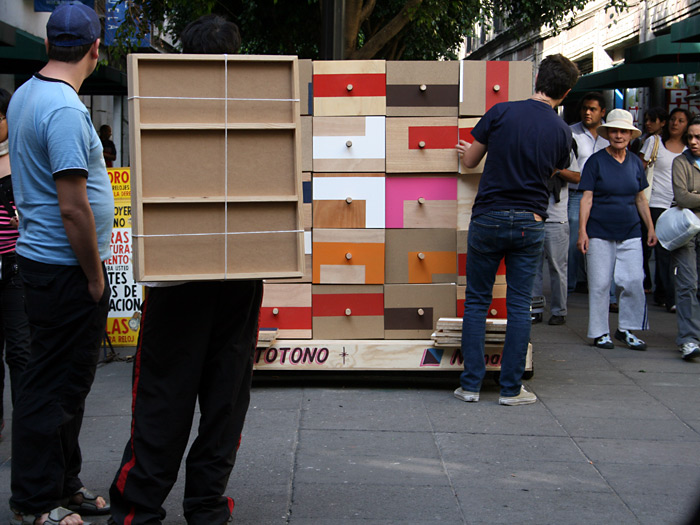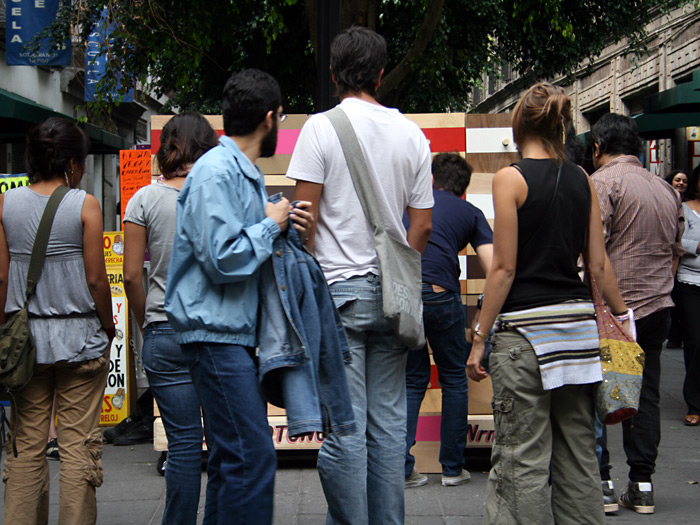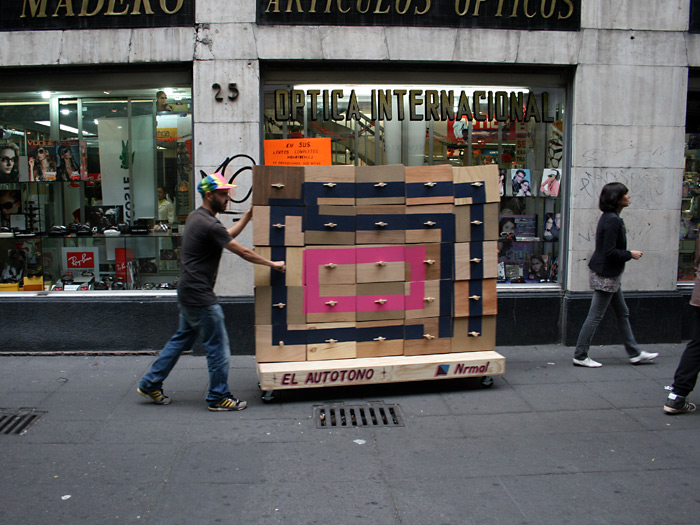 Decidimos hacer uno de los diseños y nos movimos hacia un otro lugar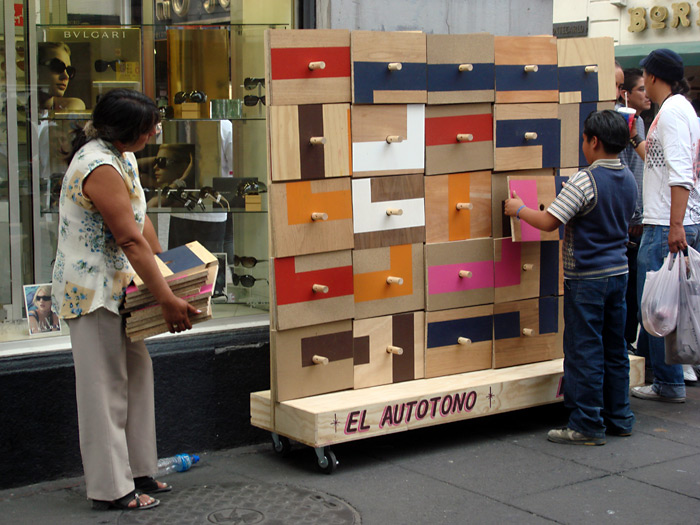 Paramos en una esquina concurrida y un niño empezó a mezclar todo en busca del diseño marrón y naranja. Su madre fue una muy buena ayudante!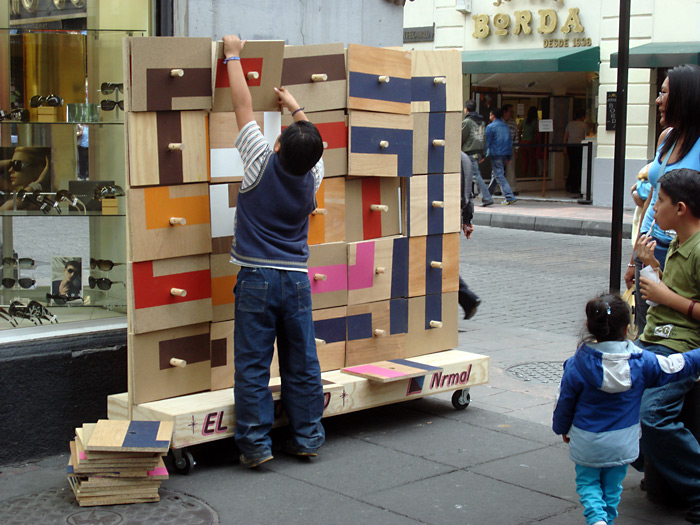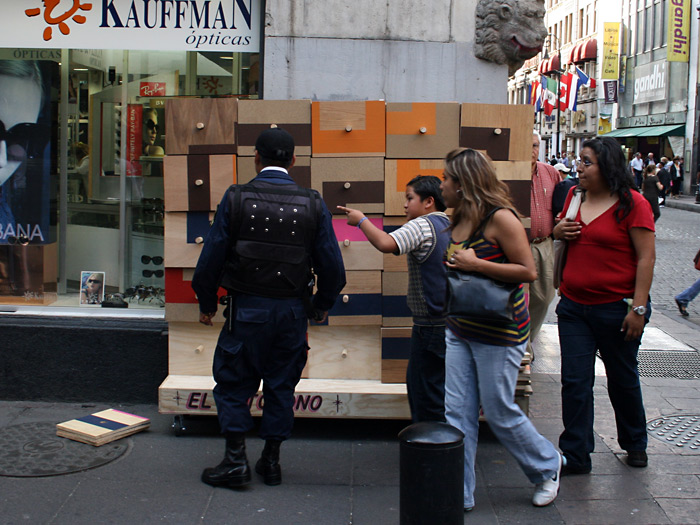 Pero llegó la policía y nos dijeron que no nos podíamos quedar aquí...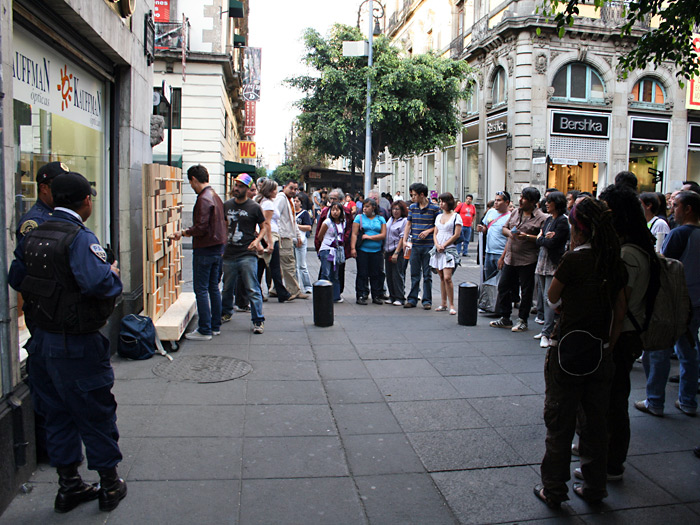 Había muchísima gente mirando y entonces decidimos acabar el diseño nosotros mismos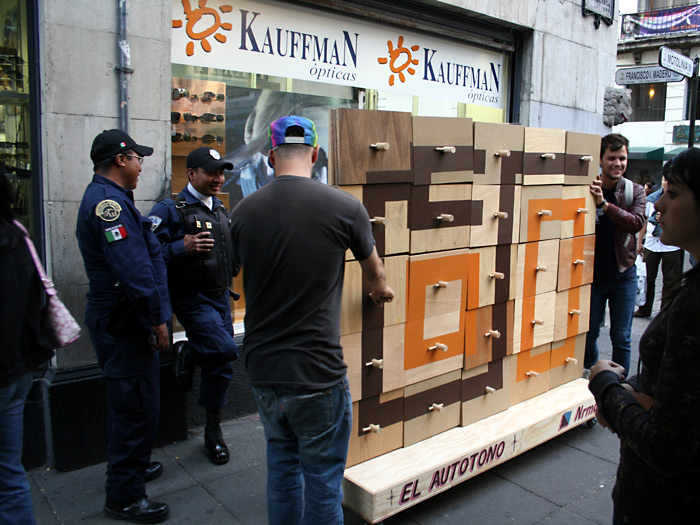 Y nos fuimos mientras la gente nos aplaudía!!!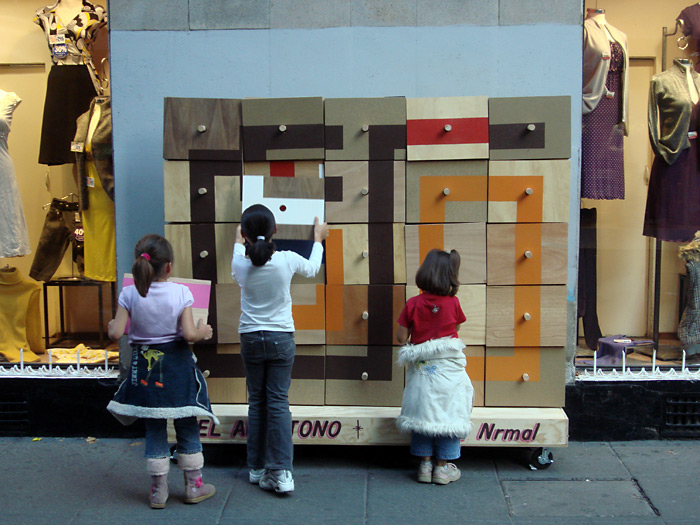 No fuimos a la esquina opuesta.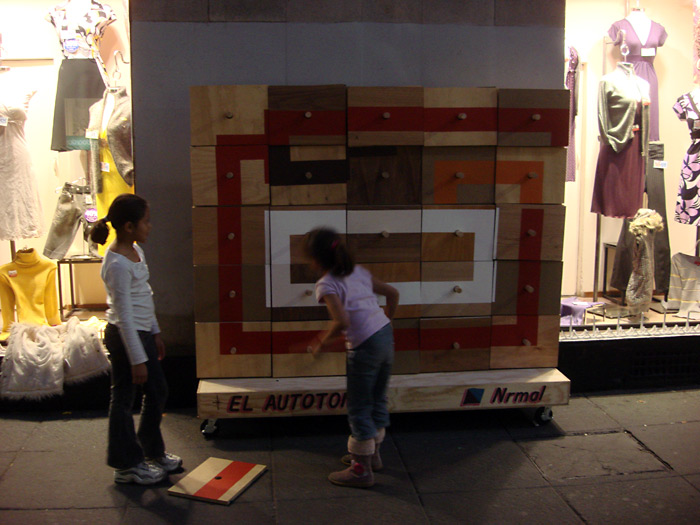 Unos niños empezaron a jugar sin parar con la instalación. jugaron más de una hora. Su madre estaba encantada que tuviéramos a sus niños tan ocupados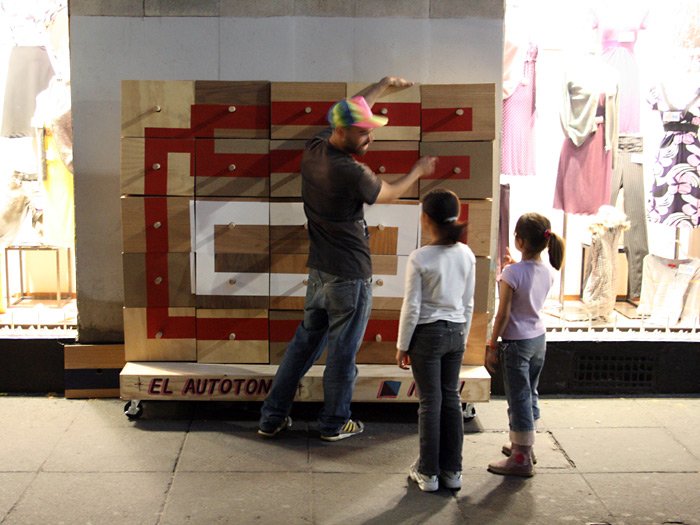 Les ayudamos, solo un poquito, para que pudieran completar el puzle y se fueron dándonos las gracias.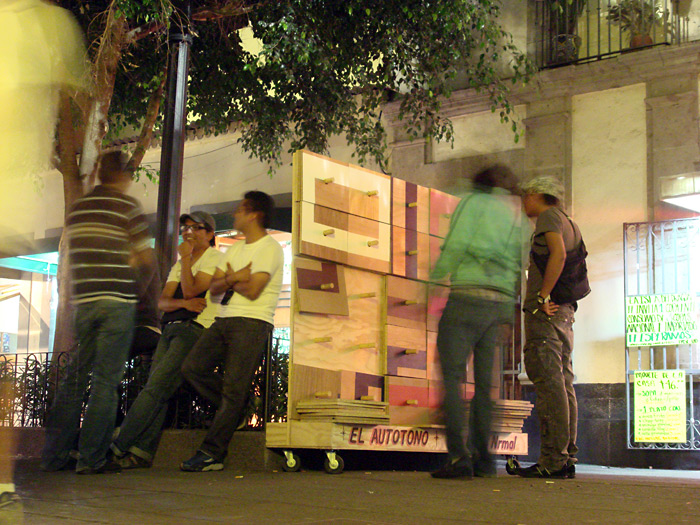 Volvimos a la sede del Mutek.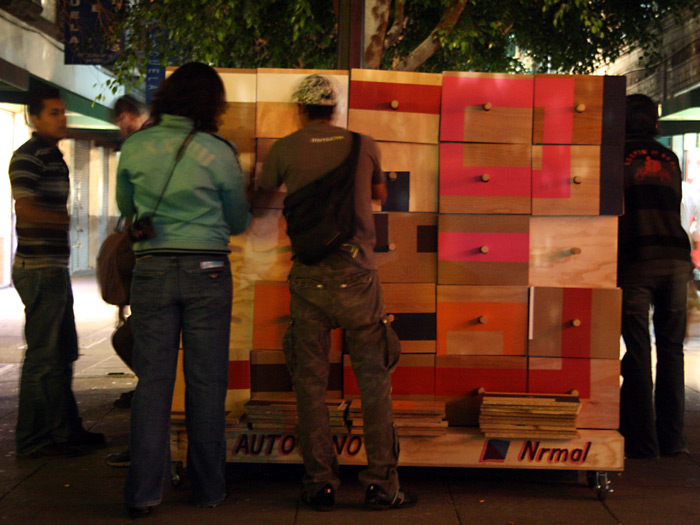 Y justo antes de que guardáramos el Autono para la noche, la gente empezó a jugar con el.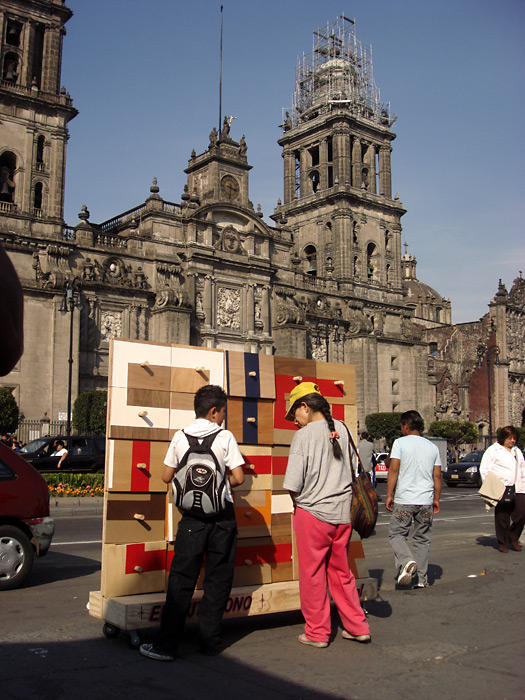 El domingo, nos fuimos al Zócalo (una de las plazas públicas más grandes del mundo).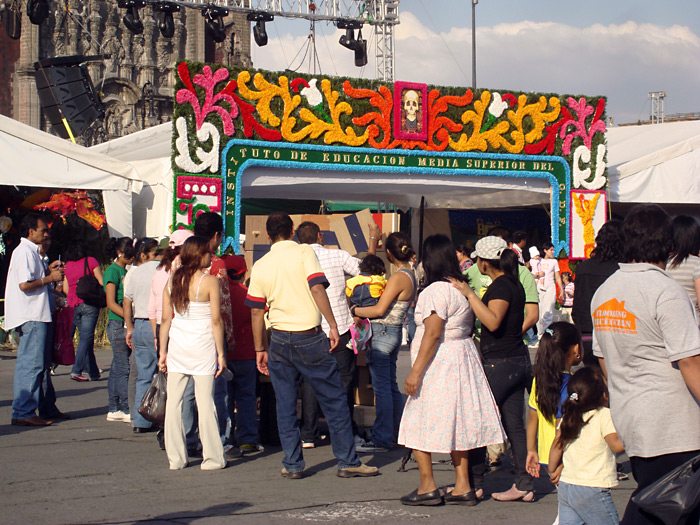 ¡Gente por todos los lados!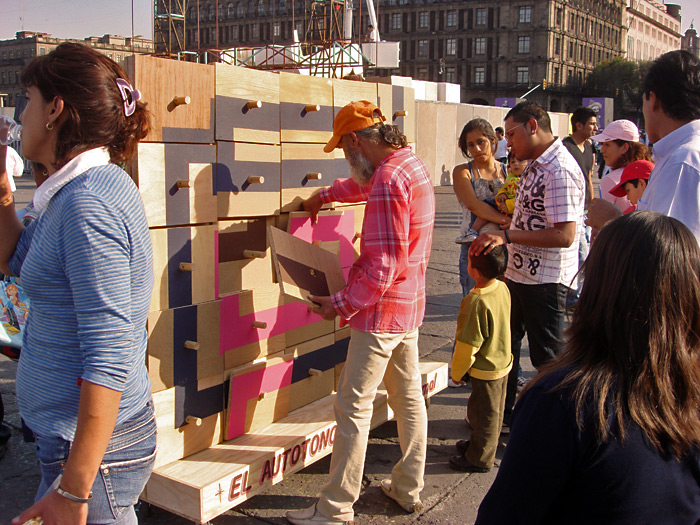 El Autotono estaba cambiando sin parar, era muy difícil registrar todos los cambios.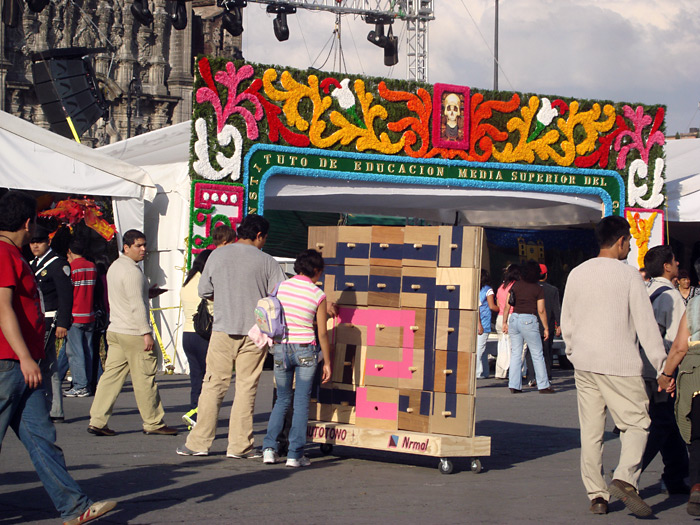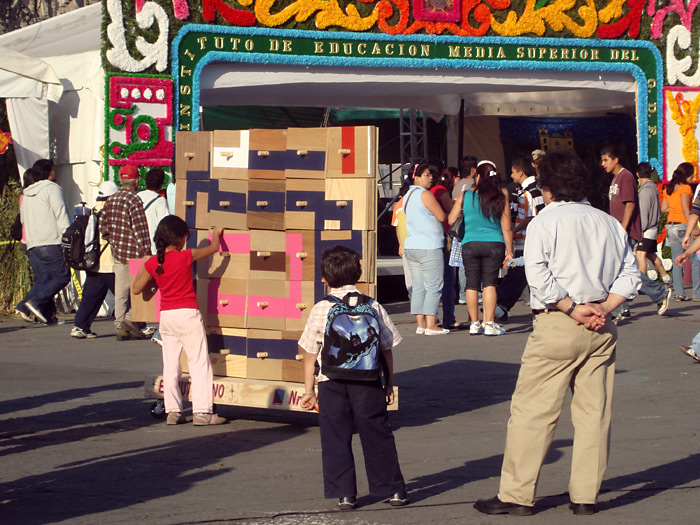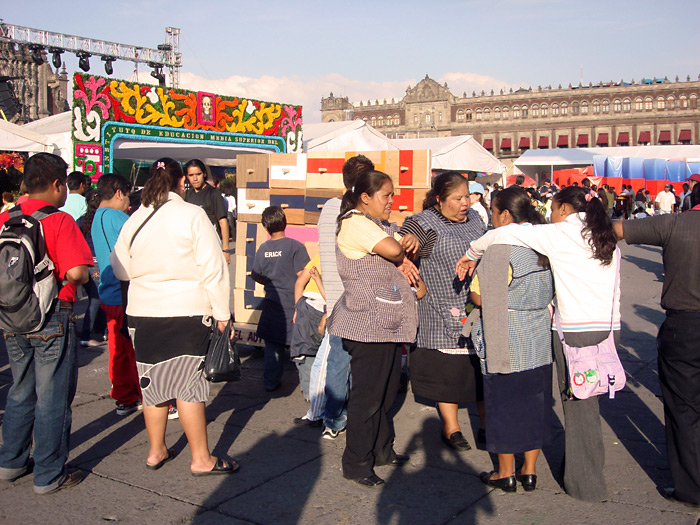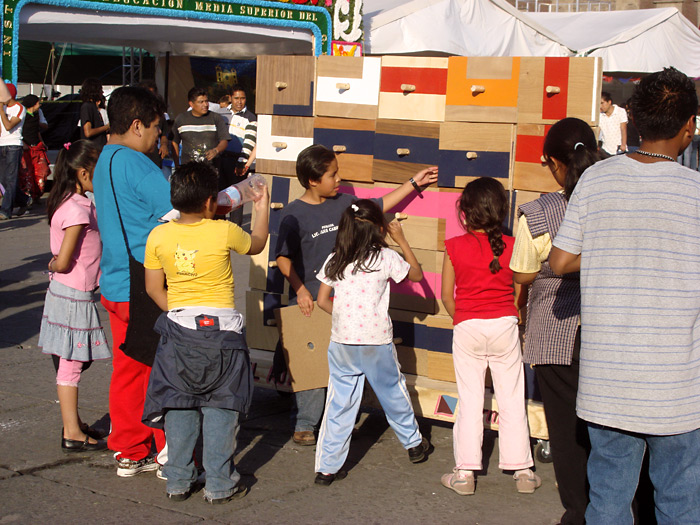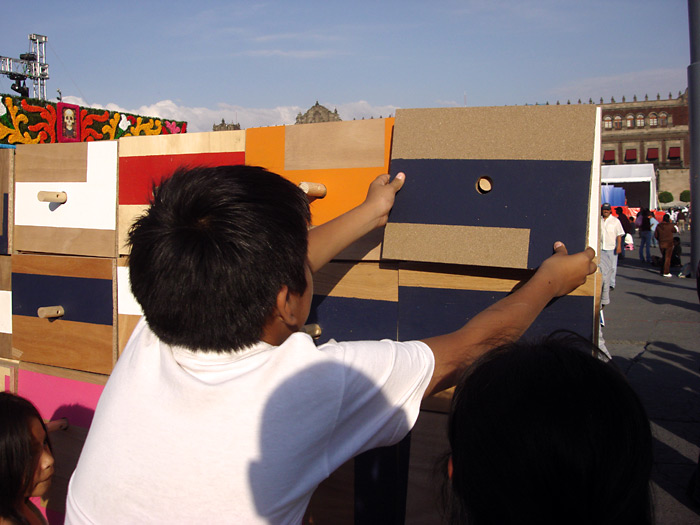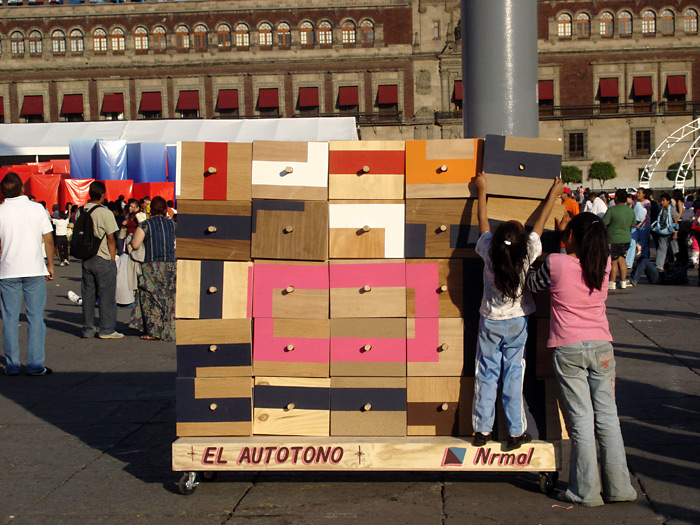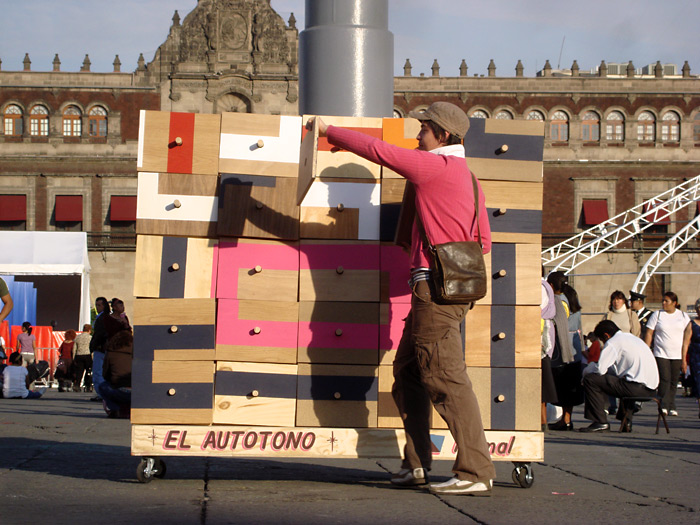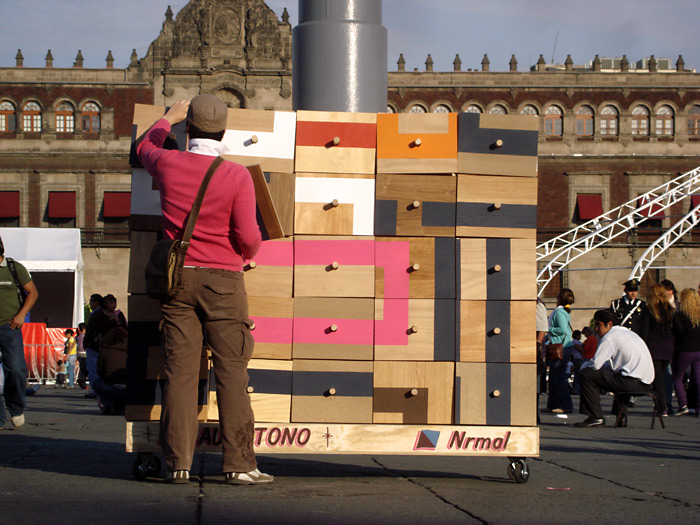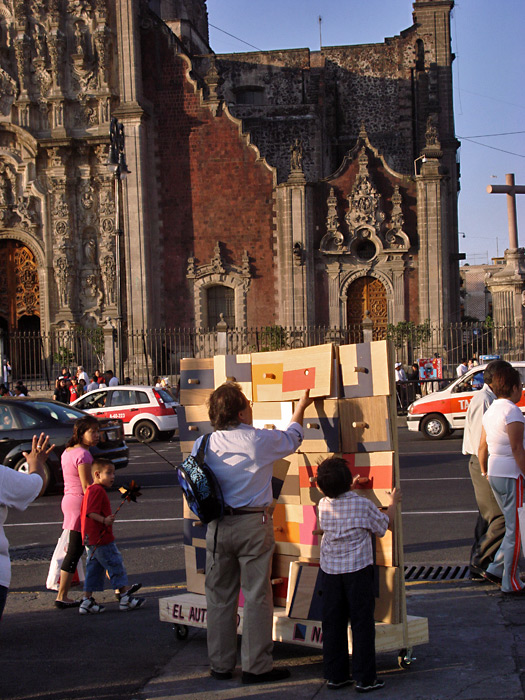 Nos fuimos a una esquina en frente de la catedral y ese niño tímido que no estaba mirando (7 fotos más arriba) nos siguió y finalmente empezó a jugar.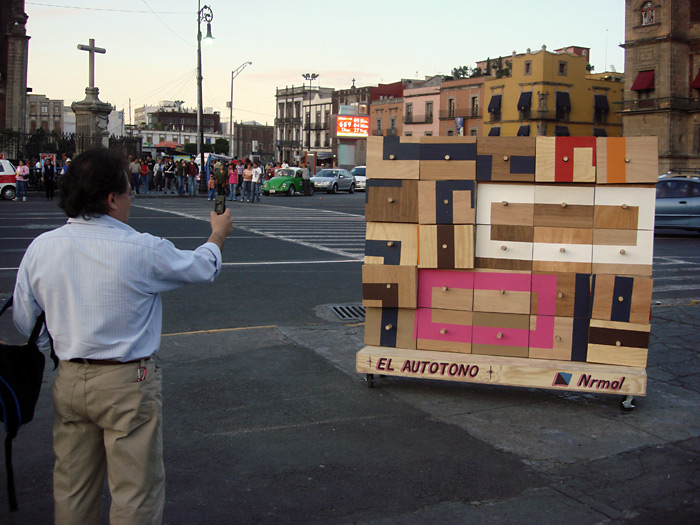 Su tío tomó fotos del resultado con su teléfono!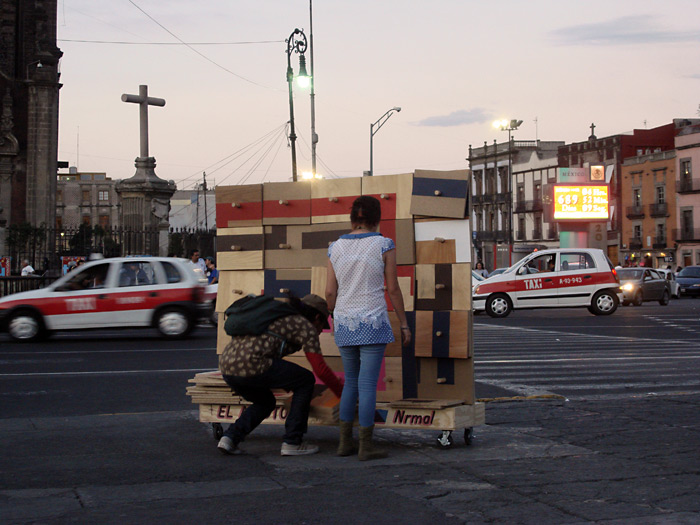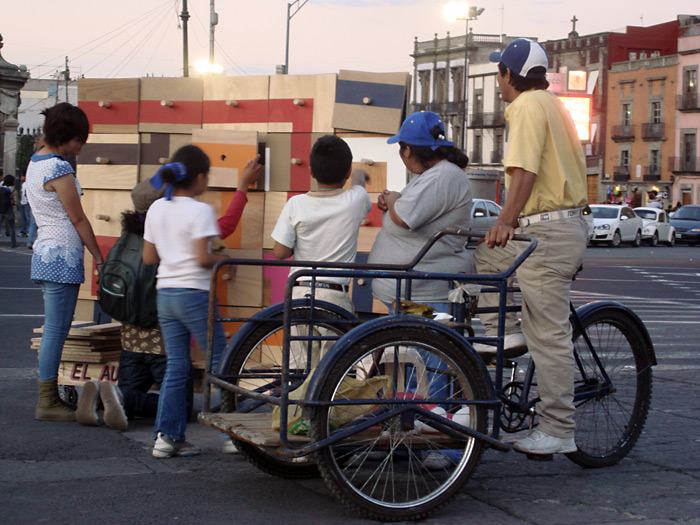 Ricos tamales!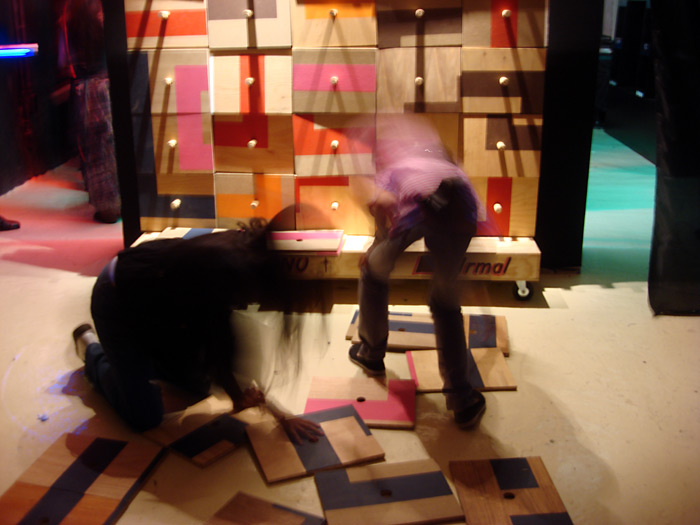 Durante la noche, instalamos el Autotono en una de las fiestas de Mutek...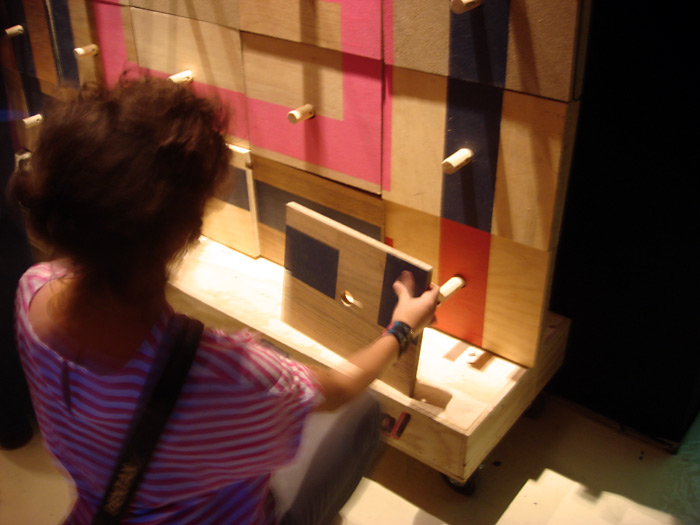 ...y estuvo cambiando a lo largo de toda la noche...
The Autotono in Monterrey: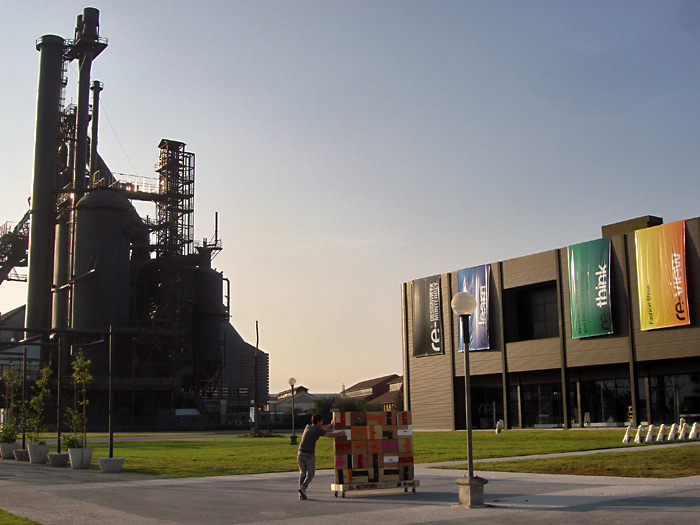 When the Autotono came back to Monterrey, we installed it in the Monterrey Design Week.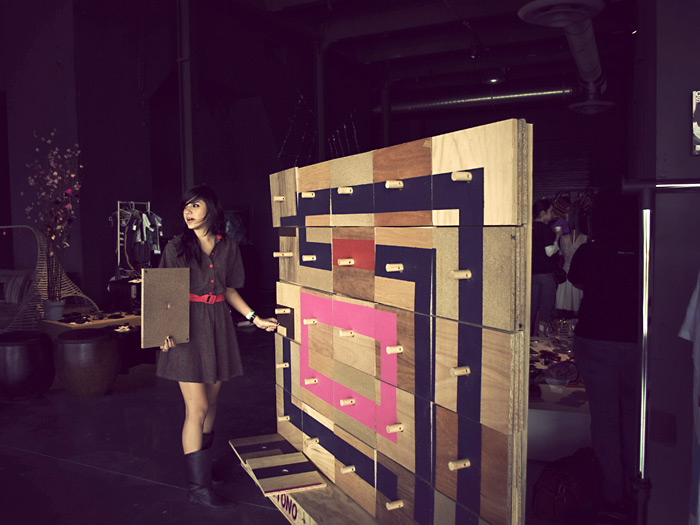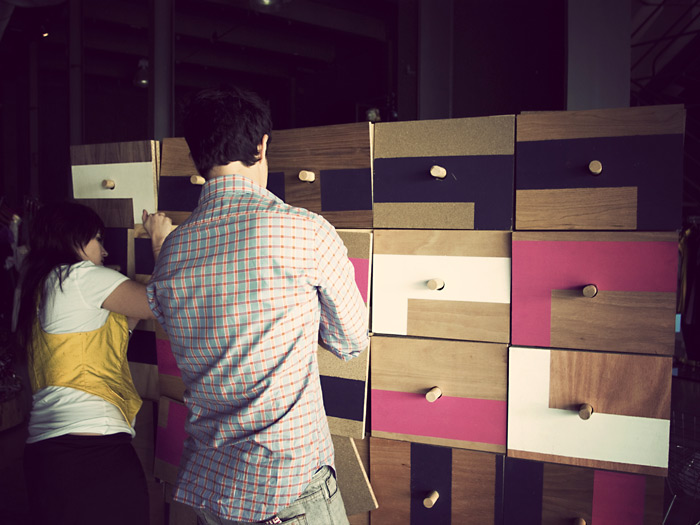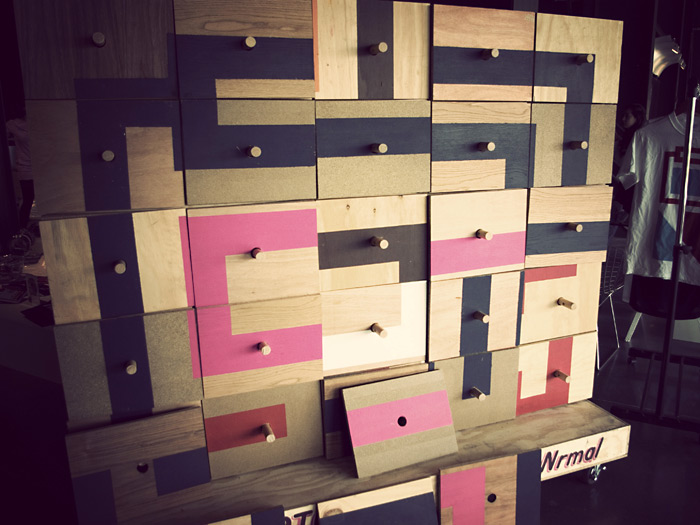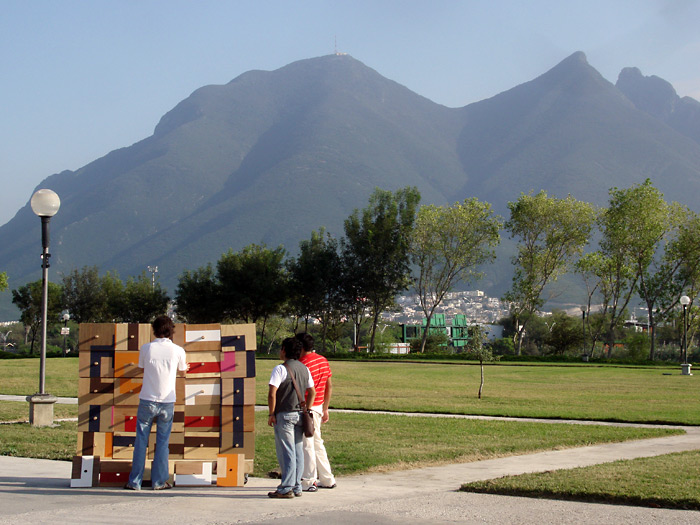 Luego lo instalamos en el Parque Fundidora.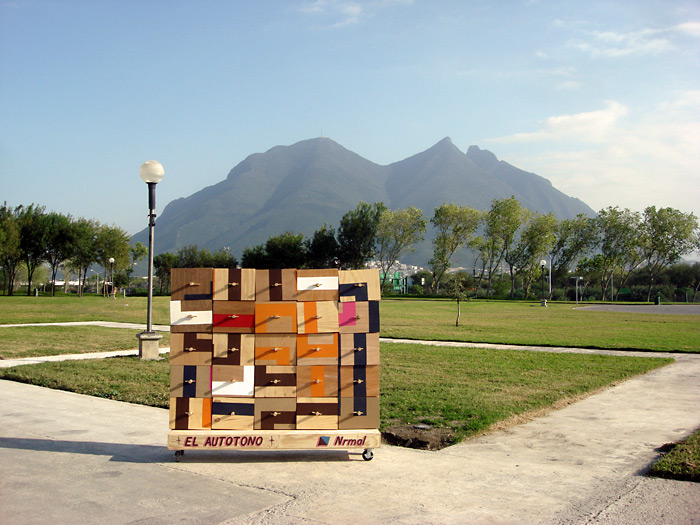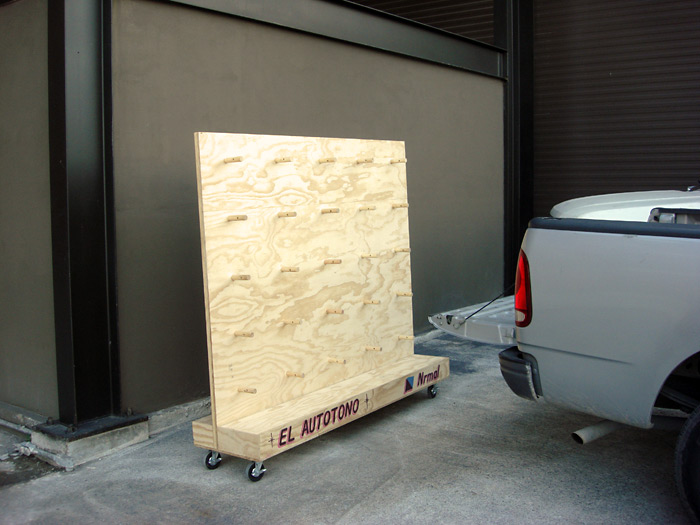 Al final de los tres días que duró la feria de diseño, lo guardamos en la pick-up...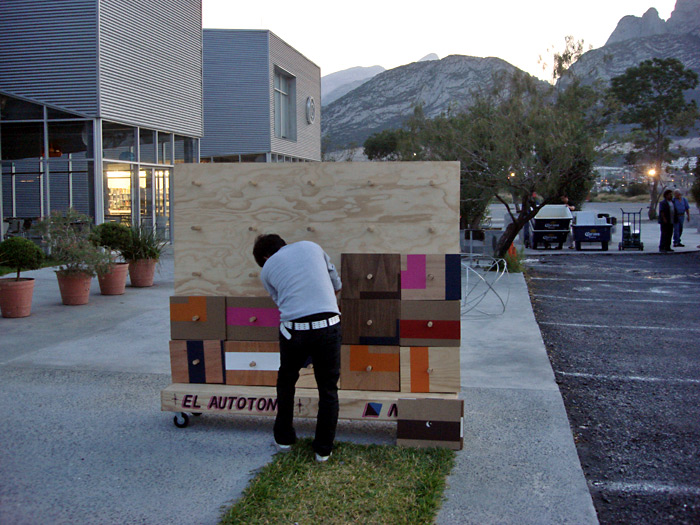 ...y lo volvimos a montar en el Cedim, una escuela privada de arte y diseño.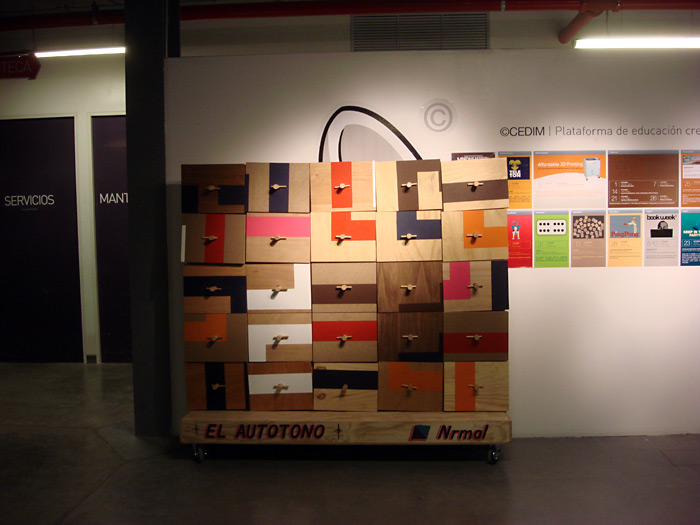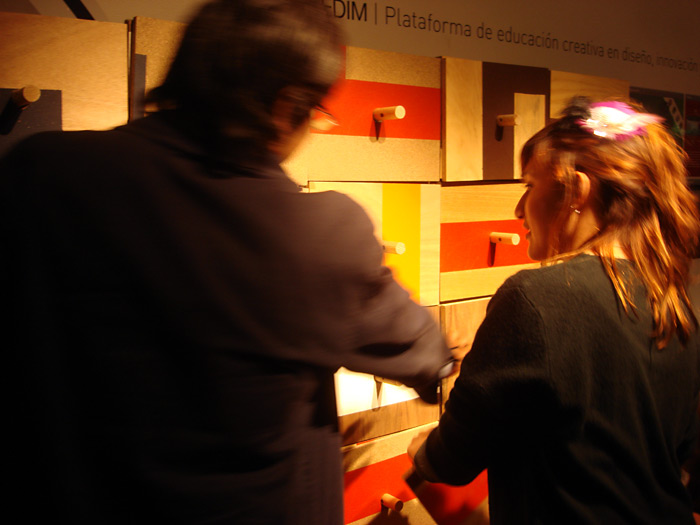 Esa misma noche era la fiesta de clausura de la Monterrey Design Week en la escuela.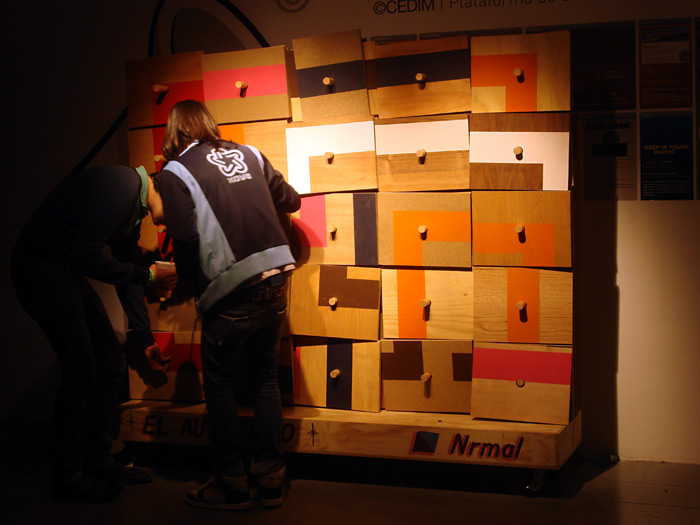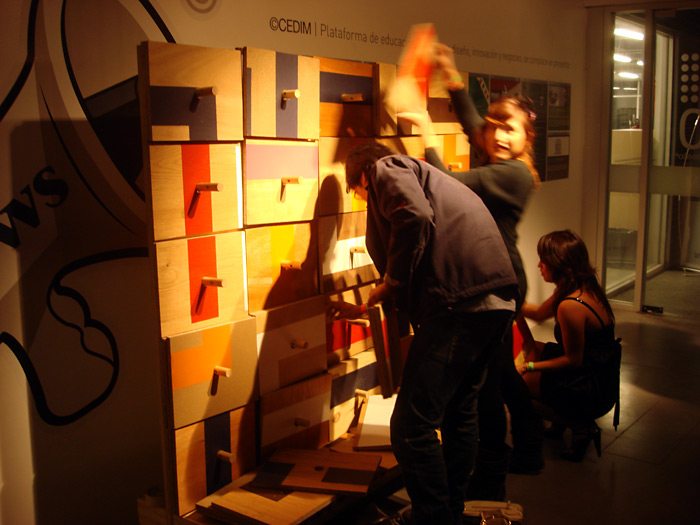 The different states the Autotono passed through:
Simulation video:
Check that small interview from the Design Week Monterrey (in Spanish).