Chkondideli neighborhood
Rustavi, Georgia
October 3rd – October 11th 2013
Project curated by Tamara Bokuchava (www.socialphotocaucasus.org) and Nini Palavandishvili (www.geoair.blogspot.com) with the support of EU delegation to Georgia and Internews Georgia.

Panoramic animation (pass your mouse over the image to move it).
Based on the idea of a running frieze that would tie the neighborhood together, I painted each individual spot envisioning a design that would run from door to door. At first I thought we would ask the people and then paint, but actually the project turned out differently. The first door I decided to paint was the entrance of an abandoned house so we decided to paint it without asking permission. While I was painting this first door, locals who were passing by asked us what we were doing and started to spontaneously offer their own doors. At that point I decided that it would make more sense to just follow the flow of people offering their doors – that way I wouldn't control the way the frieze was growing in and around the neighborhood.
Rustavi is the fourth largest city in Georgia. During the second half of the 20th century, the city was rebuilt by the Russians as an important industrial center with around 90 factories implanted on its territory. Chkondideli, the neighborhood where we worked, used to be a dormitory neighborhood for immigrants working at these factories. After 1991, when the Soviet Union collapsed, almost all the factories were closed down and the unemployment rate jumped to 65%. Today only two factories are still in use.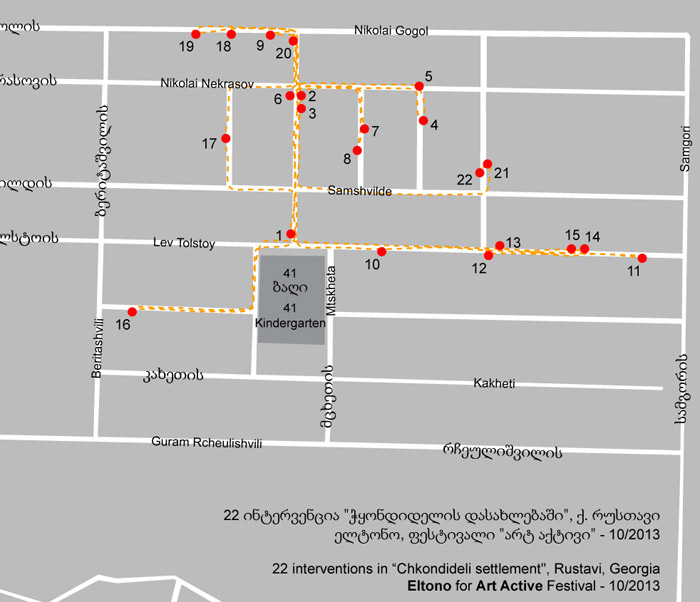 Process pictures (by Tamara Bokuchava):
Pictures by
Tamara Bokuchava
and Eltono.
Thanks Tamara, Nini, Data, Manu, everyone who helped to accomplish the project and of course all the residents from Chkondideli.