To participate, please fill out the form here: Deterministic Form
All the 50 drawings have been generated and minted, 5 are still available on the primary market: https://opensea.io/Eltono/toolpath
---
The project:
Toolpath is a cross chain on-demand deterministic generative project. It explores the possibilities of generating digital images going through analogical processes. The drawings are generated one by one on demand in my studio following a process half digital and half analogical. Then the digital artwork is sent to the collector's wallet.
How to collect:
The collector has to fill the form with his Twitter handle and Wallet number (+ transaction ash for Tz wallets). Once I receive the data, I will generate a unique drawing using the wallet number and the timestamp (YmdHis) as a seed. The drawing will then be minted and sent to the collector's wallet (using private sale on Opensea for ETH wallets and by transfer for Tz wallets).
The equivalence between the two currencies is based on September 2021's values:
0.1 ETH / 70 tz (adjustments to the conversion might happen while the project is open).
There is a mint plus a time limit for each set, the first one (Grid Set) will close on Sunday September 12th at 10pm (GMT+2 Paris Time) or if it reaches 50 iterations.
Depending on my schedule in the studio, I will determine a maximum number of drawings that can be generated each day. The form will be closed once that daily limit is reached.
Link to the collection on OpenSea: https://opensea.io/collection/toolpath
Link to the collection on Hicetnunc: https://objkt.com/profile/tz1LuC8mnzoo1P4g9dAomKJkuSekfoFY8FT8/created
---
The process:
Using the wallet address of the collector and the timestamp of the form as a deterministic seed, a toolpath and a grid are generated in Processing.
The Toolpath script draws one line joining 10 points randomly selected on a 24×18 grid.

The Grid script builds a grid with different sizes and colors.

The grid is printed on paper. The toolpath is sent to a CNC. An open scanner is set up on the CNC bed and the paper with the grid printed on it is dragged following the toolpath on top of the scanner. Both the scanner and the CNC are launched at the same time and the resulting image is saved. After color and contrast correction, the drawing is minted.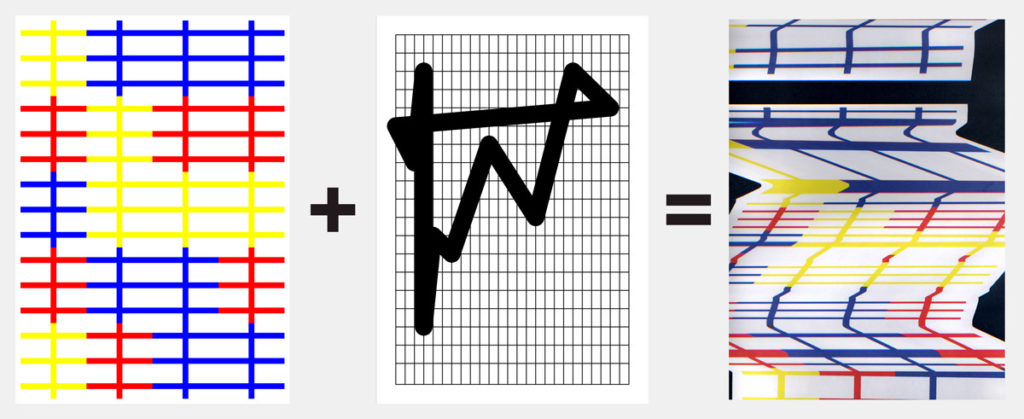 ---
All the images are unique 1/1, .JPG file, 4108 x 5664 px at 600ppi.
---
Artworks are sold under non commercial license: CC BY-NC 4.0 www.creativecommons.org/licenses/by-nc/4.0/
---
---
Archives:
Set #1, Grid Set – started on September 3rd 2021